Today I am going to share with you, Best Sewing Machine Motor with there Price List that You can buy easily Offline and Online in India. So first of all, You need to Know that. These All Silai Machine Motors List is Made on Personal use in My Tailoring Courier. And these Motors are Winding with Full Copper(not aluminium) also made up of Iron not a Plastic!
These Sewing Machine Motors are work Perfect with both uses, like Tailor/Tailoring and Home use. Also it's work Good with following Tailoring Machines Usha Sewing Machine, Novel, Durby Sewing Machine as well as other Brand Sewing Machines also.
You can also use Sewing Machine after Light is Gone and other problem related to Electric. Because this all Machine Motors are Electric Motor, So You need to pull down there Sewing Machine Belt and Use without Electricity.
We have full Freedom to Use Our Silai Machine in any situation, and make Easy Sewing with Stitching Machine Motor.
Best Sewing Machine Motor with Price List in India
1. OLYMPIC Sewing Machine Motor
Very Good & High Speed Sewing Machine Motor(excellent).
This is full Copper Winding Motor.
Also Made in India & Carbon Motor.
It's 8600 RPM, 50 Watts, 0.32 AMPS, 1/12 HP.
Following Includes: Foot Regulator(Pedal), Belt, Carbons.
2. Liberty Sewing Machine Motor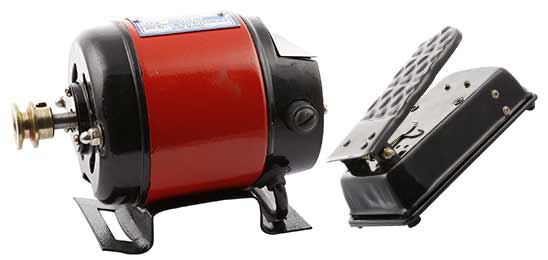 This is second Motor work Perfect for every Machine.
It is Copper Wind Sewing Machine Motor.
India made up of Motor, 6 Month Warranty.
50 Watts, Use 222/230 Volts.
Components Included: (pedal)Regulator, Belt, Carbons, Bolts.
3. Kohinoor Supreme Sewing Machine Motor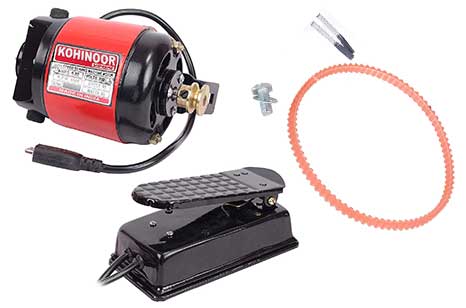 This Motor is Good for every type of Sewing Machines.
It is made in India, Copper Winding motor.
Carbon Brush Machine Motor Left and Right two Carbon holes.
220/230 Volts, AMPS-0.5, RPM-9500, 50 Watts, 6 Month Warranty.
Come with following Included Components: Regulator(pedal), Belt, Carbon Brushes.
4. QWERTY Sewing Machine Motor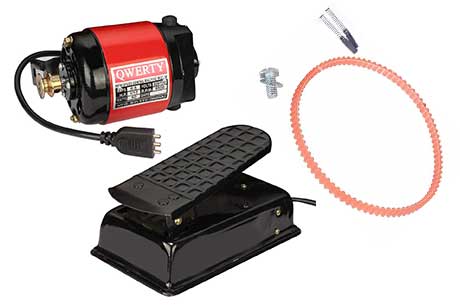 Very Good Motor for Long Work, Support every types of Machines.
6 Months Warranty, Best Motor.
Made in India, Full Copper Winded Motor.
It is H.P-1/12, VOLTS-220/230, AMPS-0.5 & R.P.M-9500 with (Speed controller).
In Package included: Best, Carbon Brushes, (Pedal)Regulator.
5. Hindustan Mini Sewing Machine Motor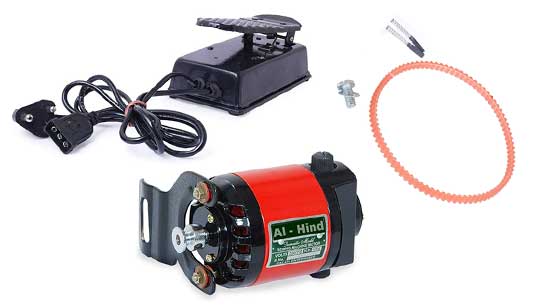 Good Motor, Don't think that it's for mini machines(only name, Work with Every Machines).
This is Copper Coil Winding Motor with Carbon.
Same India Motor, 6 Months Warranty.
It's weight is 1.5 Kg.
Included with: Pedal(Regulator), Two Carbon, One Belt.
If still have You any Question and doubt Related to Which one is Best Sewing Machine Motor for You. Which You need to Buy then Please Comment below this Post. I hope this article helped You to Find the Best Sewing Machine Motors Price List.
Guide Me
If You want to Ask my Opinion on Which is the Best Sewing Machine Motor, I need to Buy. Then I am Said, You can Buy Anyone from my Above Given List of Sewing Machine Motors with there Price. According to Price budget, Check Price by Click on given button. So now, I am Solve a Big Problem by Answering this Question below.
Which Sewing Machine Motors, I not Need to Buy ?
Yes! Now I am Share My Personal Experience on a Motor. Which I am bought and Total money Wast Motor. And I want to Share with You. See this Picture below.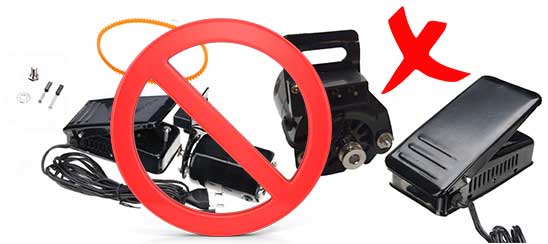 This Sewing Machine Motor run Only 3 Months after it Can't Work more. If You run this Motor for 1 hour Stitching in Tailoring and Home use then it become Hot Like a Lava. And if it's Pedal(Regulator) got Damaged then it is Very Tough to Fix them. So I am not Recommended You for Go this types of Motors in Market.
If You Liked this Post, also please Subscribe my Youtube Channel for Tailoring Video Tutorials. You Find me also on Facebook.