Hi, "Tailoring in Hindi" here, I will share my measurement chart for blouse cutting with you. These blouse charts for every size blouse measurements.
Everyone who can't afford Blouse Farma cutting or can't buy/purchase. So I will give my blouse measurement chart for 32-34, 34-38 & 40-42 Sizes.
These 3 types of Measurement chart tables are below, where I will divide them into Front and Back Parts Cloth for easily understandable beginners.
So let's get into it. It would be best to put measurements like given below easily, or maybe a small bit goes different, but it's minor changes.
Blouse Measurement Chart Size for Blouse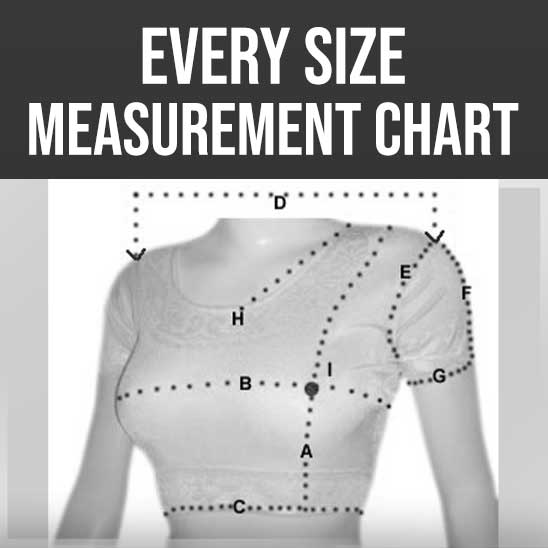 If You will any type of help to understand that chart, then feel free to ask me anything about it. Or you can also follow my youtube blouse tutorials to relate this measurement better with you.
1. 32-34 Size Measurement Chart
| BACK PART MEASUREMENT | ( inch ) |
| --- | --- |
| SHOULDER | 5.5 |
| ARMHOLE | 5.5 |
| BACK LENGTH | 14-15 |
| BACK NECK(WIDTH) | 2 |
| BACK NECK(LENGHT) | 9-10 |
| BACK BOTTOM PLATE(ON WIDTH) | 4 |
| FRONT PART MEASUREMENT | ( inch ) |
| --- | --- |
| SHOULDER | 5 |
| ARMHOLE | 6 |
| FRONT LENGTH | 16-17 |
| FRONT NECK(WIDTH) | 2 |
| FRONT NECK(LENGHT) | 6 |
| TEERA MARK(ON LENGTH) | 13 |
| FRONT TUCKS MARK(LENGHT) | 9 |
| FRONT BOTTOM PLATE(ON WIDTH) | 4 |
2. 36-38 Size Measurement Chart
| BACK PART MEASUREMENT | ( inch ) |
| --- | --- |
| SHOULDER | 5.5 |
| ARMHOLE | 6 |
| BACK LENGTH | 14-15 |
| BACK NECK(WIDTH) | 2 |
| BACK NECK(LENGHT) | 9-10 |
| BACK BOTTOM PLATE(ON WIDTH) | 4.5 |
| FRONT PART MEASUREMENT | ( inch ) |
| --- | --- |
| SHOULDER | 5 |
| ARMHOLE | 6.5 |
| FRONT LENGTH | 16-17 |
| FRONT NECK(WIDTH) | 2 |
| FRONT NECK(LENGHT) | 6 |
| TEERA MARK(ON LENGTH) | 14 |
| FRONT TUCKS MARK(LENGHT) | 9.5 |
| FRONT BOTTOM PLATE(ON WIDTH) | 4.5 |
3. 40-42 Size Measurement Chart
| BACK PART MEASUREMENT | ( inch ) |
| --- | --- |
| SHOULDER | 6 |
| ARMHOLE | 6 |
| BACK LENGTH | 14-15 |
| BACK NECK(WIDTH) | 2 |
| BACK NECK(LENGHT) | 9-10 |
| BACK BOTTOM PLATE(ON WIDTH) | 5 |
| FRONT PART MEASUREMENT | ( inch ) |
| --- | --- |
| SHOULDER | 5.5 |
| ARMHOLE | 6.5 |
| FRONT LENGTH | 16-17 |
| FRONT NECK(WIDTH) | 2 |
| FRONT NECK(LENGHT) | 6 |
| TEERA MARK(ON LENGTH) | 14 |
| FRONT TUCKS MARK(LENGHT) | 10 |
| FRONT BOTTOM PLATE(ON WIDTH) | 5 |
I hope these charts will help you a lot. If you still have any doubt, I will be waiting for your questions on Youtube. Also, You can share your ideas with us for more interesting topics. Thank You